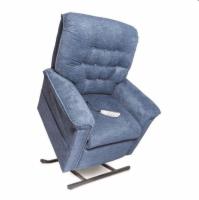 The LC-558 infinite position lift chair stands out from the rest by offering a superior level of comfort and performance. This cutting-edge model showcases several industry-first features, including: a user friendly remote control with USB charging port and the Total Comfort Seating system. This unique seating design combines a spring system and one-piece foam to offer individualized comfort that will adjust to the needs of each user.
In addition, this impressive lift chair comes with a heavy-duty lift actuator and scissor mechanism that provides a 325 lb. weight capacity and smooth and quiet performance. With the integrated battery back-up system, you can keep operating your chair even during a power outage. Other convenient features include: large storage pockets, self-diagnostic electronics and your choice of stylish fabric options.
Enjoy better mobility and a versatile chair that will allow you to increase your freedom and independence. Call today to speak with a lift chair.